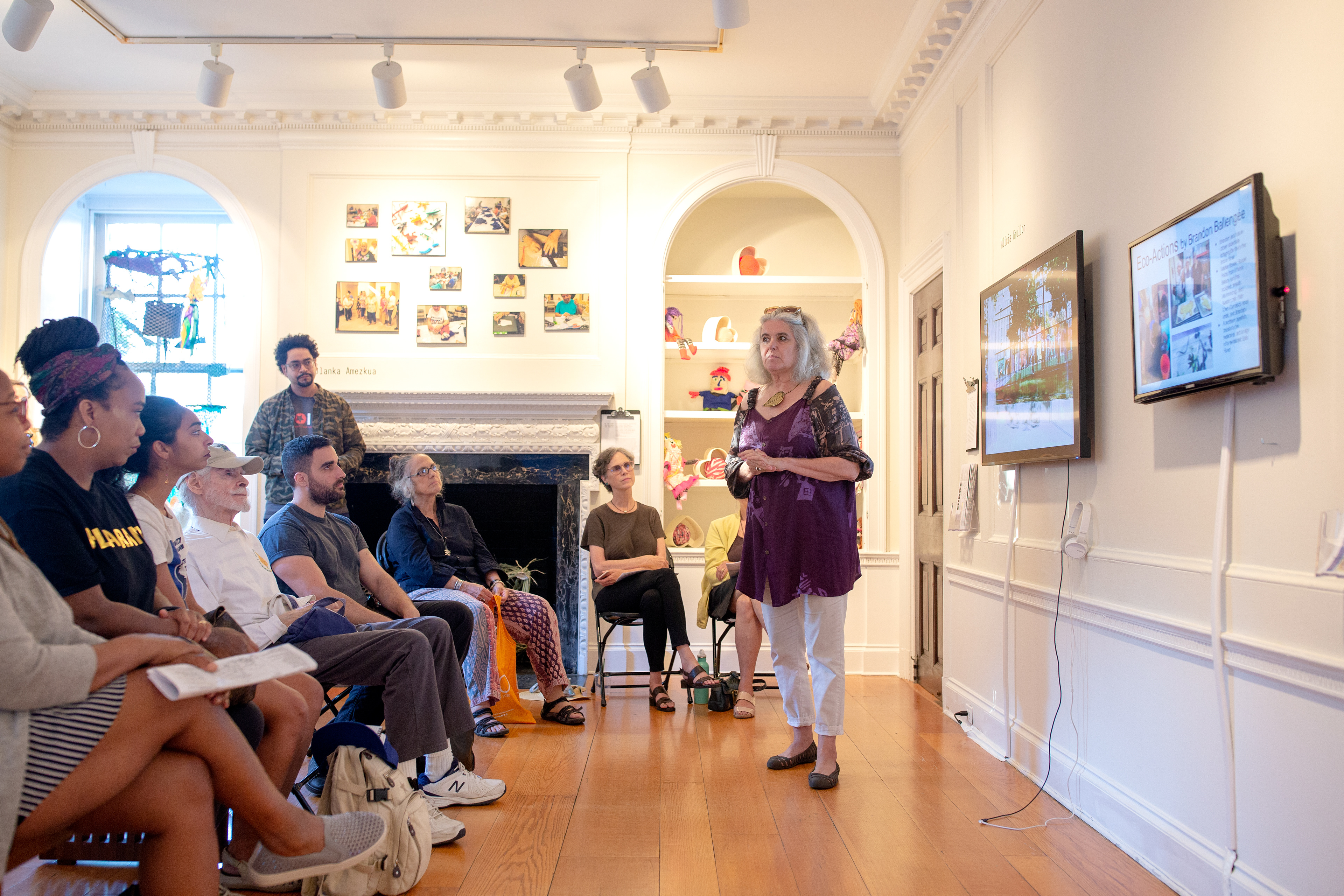 Concern about the deteriorating environment and rising waters is at the heart of an art exhibit in Riverdale that features several South Bronx artists. 
Ecological Consciousness opened at Glyndor Gallery on Wave Hill on July 19, with a conversation about pollution in the Bronx and East rivers and its effect on fish and other aquatic organisms, along with personal narratives of resilience in the fight against climate change. 
The Point CDC's programs director Danny Peralta and visual arts director Carey Clark led the talk, which they called Countering Risk through Resiliency: An Open Conversation. Through the Hunts Point organization's South Bronx Resiliency Arts Fellowship Projects, they worked with aspiring artists to create the pieces featured at the exhibit. Artists included Lillian Ball, whose 
WATERWASH Bronx River
 has had a home on the banks of the Bronx River in Soundview since 2009, Brooklyn-based 
Greg Lindquist
 , and 
Tattfoo Tan
, whose themes revolve around reducing food waste.
"We understand that the people in our community understand this work, and the artists are scientists in their own ways," said Peralta. "But they don't have the luxury of experimenting with different approaches to understanding [climate change]." 
Mott Haven artist Blanka Amezkua's piece My Toy Story/Mi Historia Con Juguetes, brought together 12 Hunts Point residents to create toys through the use of textiles, drawings and paintings. The toys consisted of homemade dolls between six and 10 inches high, and colorful balls made of fabric and stuffed with cotton. Each piece is meant to address the aftermath of Hurricane Maria, immigration, and the precarious conditions of South Bronx waterways. 
Artists working with The Point created pieces that focused on climate issues in Hunts Point, with the intent of encouraging other communities to take note of the effects climate change has had on the South Bronx. 
"Our idea was to take our work beyond The Point walls through the arts in different ways and try to reach primarily workers in the community and residents that are not necessarily in our reach," said Clark. "In the meantime, we hope that everyone gets educated through the work we've done this past year. I think it's a very powerful way to share knowledge."
The exhibit will run through August 26, and is free to the public with admissions to the grounds.