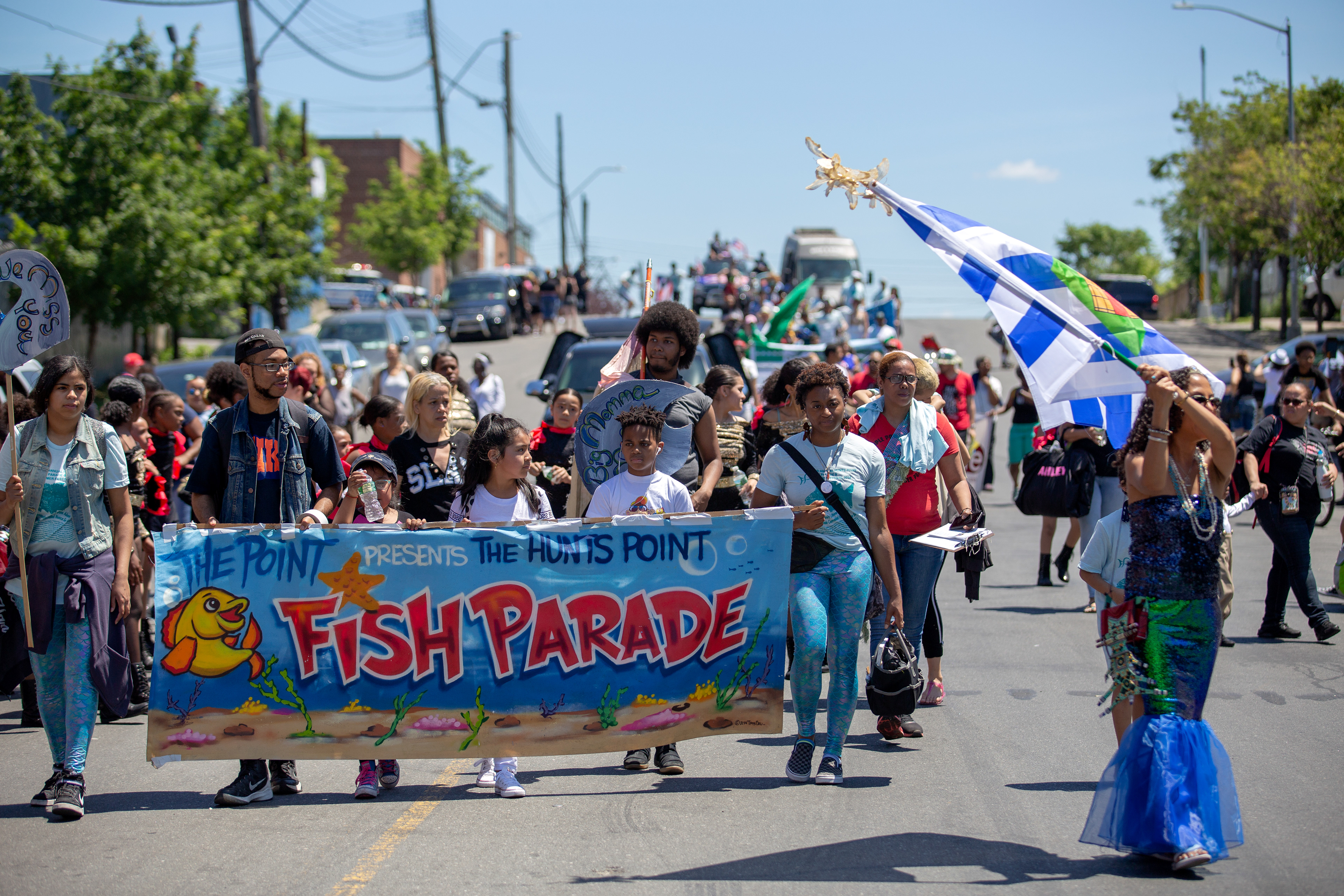 An array of colorful and vibrant marchers and vehicles caravanned down Lafayette Avenue for the 15th Annual Hunts Point Fish Parade on June 16, including dance troupes and about a dozen local organizations and civic groups.
As it has done every year since 2004, the parade started at Hunts Point Riverside Park and wound its way through the streets of the peninsula, with an estimated 200 spectators along for the mile-long march and the festivities that took place at Barretto Point Park afterwards. 
The idea for the parade originally started as a celebration of the Hunts Point waterfront, when the Fulton Fish Market relocated from Manhattan to the peninsula. This year's theme, "Building Community is Never Done Alone," was inspired by what community members say is the need to bring workers, organizers and residents together.
Hunts Point residents who were honored at this year's ceremony at Barretto Point Park included community activist Mrs. Cybeale Ross, boxing gym & cultural center El Maestro, Inc., the New York Harm Reduction Educators, Real Life Church, and 720 Hunts Point Avenue Tenants Association. Posthumous honorees included community activists Marie Davis and Edd Lee.
Among the groups that participated at the parade were Greenworkers Cooperative, St. Mary's Park Dancers/SMK, and the National Puerto Rican Parade Inc., who brought about 5 Puerto Rican Pueblos to march this year through the streets lined with warehouses and industries. 
Resident and poet Mariposa Fernandez, who grew up in Hunts Point, wore a mermaid-themed outfit and encouraged spectators and marchers with calls of "wepa!" Fernandez waved the flag of Vieques, Puerto Rico throughout the parade, to remind onlookers of Hurricane Maria, which claimed nearly 5,000 lives on the island, and to salute Puerto Ricans struggling to recover on the island, for their strength and survival instinct.
"It's important for us to focus on our resilience, and that this is a celebration of everything we've overcome, are overcoming and transforming," said Fernandez.
Danny Peralta, executive managing director of The Point CDC, which organizes the annual event, says he has noticed changes in the parade over the seven years he has been involved.
"I feel like more people have been coming out. There was at least 200 people on that route, so it's nice," said Peralta. "I don't think it changes much as far as the energy is concerned but I think the thing that changes the most is the generation of people that come out and enjoy it." 
Once they arrived at Barretto Point Park, marchers and spectators alike were treated to live music, competed in a costume contest, danced to salsa music and took part in a raffle. As this years' honored guests gathered on the stage, cheers erupted when Fernandez recited their accomplishments on behalf of the community. Many attendees expounded on the revival of the Bronx, but Fernandez had a different take.   
"The Bronx is experiencing what they're calling a 'revitalization' but I don't use that word. This is not a revival because we were never dead," she said. "This is about us transforming everything that doesn't work in our community and all the injustices that we shouldn't have to be subjected to."