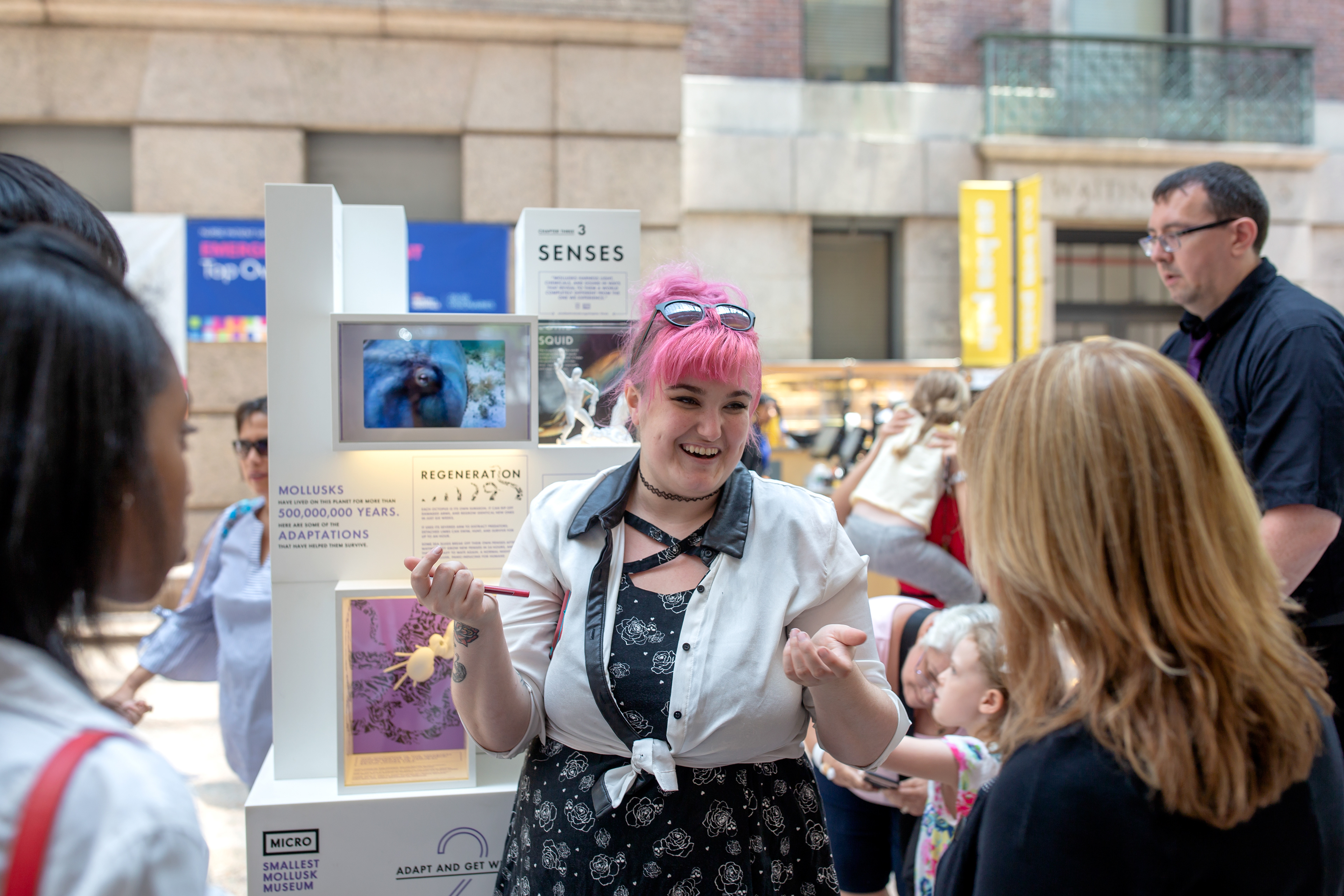 Mollusks don't typically pop into someone's head when they think of their local hospital, but that's changing at the South Bronx's largest medical facility.
The Smallest Mollusk Museum, an interactive mini-museum about the size of a refrigerator, is turning heads in the lobby of Lincoln Hospital, while turning young people onto science through an educational initiative that documents the history of invertebrates. It integrates 15 natural history exhibits, five videos, eight sculptures, three optical illusions and a hologram into one educational tool.
MICRO, a nonprofit that aims to boost science education, designed the structure to teach young people about the mysteries behind often-ignored snails, slugs, mussels and related species. The organization is designing a fleet of science mini-museums for installation in health centers, hospitals, and care facilities.
Scientist Amanda Schochet, who co-founded the World's Smallest Mollusk Museum, says that accessibility was an important factor behind its design.
"The fact that it's 2-feet by 2-feet is really central to our mission. We want to build these for a space that's small enough that it can really go anywhere and reach everyone," Schochet said. "We want there to be information that's dense enough that it can pack a punch and really engage people, but also told in a way that is interesting to people with all different levels of experience in science."

Although there are more than 100 museums in New York City, fewer than 10 of them are located in the Bronx. Officials at Lincoln Hospital decided to do something to change that imbalance, so they reached out to MICRO and requested they temporarily install the mini-museum in the hospital lobby on E. 149 Street at the corner of Morris Avenue. Lincoln's CEO Milton Nuñez hopes that the new attraction will help change the way patients and their visitors feel when at the hospital.
"Everyone including the kids are fascinated by the museum—A lot of knowledge in a small space," said Nuñez. "Visiting a hospital is almost never at the top of anyone's list. This helps lift spirits."
Although the museum was initially designed to help pique children's curiosity about the natural world, adults have shown an interest in the project as well.
"Stem education is often focused on kids, but grown-ups are curious people too and knowing about science and technology is important and it's empowering," said Schochet. "We really wanted adults to have access to this information in a way that's entertaining. We tried to think about it as a Pixar movie, where kids watch the movies and love them because they're cartoons, but adults watch Pixar movies too and that's how we wanted to design our content."

Research Advisors Museums R+D collects analytical data and statistics from museums-goers and also provides museums with strategies to bring larger audiences. In 2010, a survey conducted by Research Advisors Museums R+D found that over 91% of the core museum visitors were white while the other 9% were from racial minority groups. The study also found that most white visitors came from an affluent, well-educated background.
Most museums, whether it's arts or science, are usually placed in affluent areas which can be difficult to access for people who lack access to transportation and funds. Cynthia Gonzalez, a mother of two in the South Bronx, has been having a difficult time finding ways to expose her children to science and arts—until the Mollusk Museum came to the neighborhood.
"Now that summer's here and the kids are out of school I've been trying to plan trips to head out to the museums. With my work schedule, how much it can cost to get to the museum and the cost of the entry fee I'm not sure I can take my kids out," Gonzalez said. "When I found out about the Mollusk Museum in Lincoln, I was relieved. I didn't have to worry about changing my life for a day just so I can show my kids something new."
Community members in the Bronx shared similar views that Gonzalez expressed. While there are grassroot organizations such as Rocking the Boat that bring sciences to youth in the area, many residents believe that there's more work to be done to make S.T.E.M. more inclusive. Schochet and the people who work at MICRO share a similar belief.
"If you're trying to go to one of the larger museums in New York, unless you're based in Manhattan, it's a real commitment to get there," Schochet said. "It all adds up to make it a pretty exclusive experience and that's not how information should work. It's not how education should work and it's not how experiences that you should have your family should work. You should get to experience this no matter where you live."